Roll over image to zoom in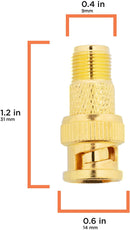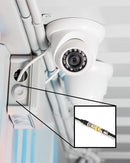 Description
Perfect For: Provides a quick and easy way to check, extend, adapt, or convert the connector type on any device that requires a BNC or F connection

Perfect For: Perfect for RF applications, including Wi-Fi, FM radio, off-air antennas, GPS, Satellite devices and CCTV connections

Premium Construction: Not only made of high quality material, but they are cleanly threaded and latched on securely without the need to wiggle

Indoor / Outdoor: The flat ports offer some water resistance, providing a moisture seal that protects from environmental hazards and corrosion damage

Quality Assurance: Includes a US manufacturers warranty

Introducing RF Coaxial Adapter by THE CIMPLE CO
These premium quality connectors are great for converting BNC to f-type connections, and can be used as adapters for connecting coaxial cables. Featuring a BNC Male to F-Female design, these 75 Ohm connectors are perfectly suitable for RG6 and RG59 cables. They are constructed of high quality material for durability, and are designed for both, indoor and outdoor use. The flat ports provide a moisture seal for end to end water resistance and latch on securely, without the need to wiggle.

COMPATIBLE WITH:
RG59, RG6, RG11
HD SDI, SDI
CCTV, Security Camera
NO CRIMPING REQUIRED
SPECIFICATIONS
BNC 75 Ohms and 50 Ohms*
*(with slight loss)
Screw on F81 / F-Pin
THE CIMPLE CO
All of our high quality products are brought to you by our Family owned and operated company.
We are located in Utah, "The Beehive State," here in America; where we have become a leading manufacturer and provider of high quality and durable electronic accessories along with OEM parts and replacements.
Our products are backed by our amazing warranty and a satisfaction guarantee, including 100% US based customer assistance.
Payment & Security
Your payment information is processed securely. We do not store credit card details nor have access to your credit card information.