Roll over image to zoom in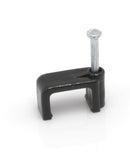 Description
50 pack of white dual RG6 Cable clips

Use with twin coax cable, electrical wire, security cable, etc.

Strong Nail head, high quality

Solid construction

Indoor and Outdoor rated clip and nail

THE CIMPLE CO, A Family Company located in the USA, is proud to offer these clips. They are available with Nail or Screw fastener, manufactured with high quality UV protected materials and long-life outdoor rated fasteners. By using specially designed clips for coax, data, and other cables-there is no loss in the wire by 'pinching or crushing' the outer jacket. This leaves the integrity of the cable intact to prevent any loss of signal, while providing a long-life installation. Screw clips are designed to be removed and adjusted if every needed; nail clips are great for baseboards, most stucco, and brick mortar. Available in sizes to fit a single cable, or two - and in black and white.
Payment & Security
Your payment information is processed securely. We do not store credit card details nor have access to your credit card information.