Roll over image to zoom in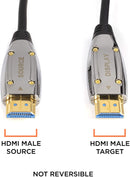 Description
Includes: 1 Fiber Optic HDMI Cable – 300 Feet (90 Meter)

Perfect For: Transfers HDMI signal for a longer distance over optical fiber cable, achieving HDMI to Optical to HDMI conversion without the limitations of sending digital DVI and HDMI signals over copper wire

Specifications: Uncompressed video, resolution up to 4K@60Hz, HDCP 2.2 compliant, supports up to 32 audio channels, along with True HD Dolby 7.1 and DTS-HD Master Audio

Hybrid Design: Fiber optic Cable is made with gold connectors – delivering an interesting mix of ruggedness, flexibility and premium design

Quality Assurance: This fiber optical Cable features an ultra-rugged, durable design made for uninterrupted high quality signal transfer and Includes a US manufacturers warranty

Introducing the Fiber Optic 4K HDMI Cable by THE CIMPLE CO.

This hybrid HDMI over fiber cable is designed to instantly send video and sound data (information) through optical fiber, and without perceptible latency at longer distances. It doesn't require a repeater or signal booster to work, and will not experience signal loss or EMI interference that degrades the signal. It supports HDMI maximum rate at 18 Gbps and possesses an advanced optical embedded chipset that brandishes optimal signal integrity. This cable offers a simple plug and play design, and does not require an external power supply.

SPECS:
4K x 2K 60Hz/fps YUV 4:4:4 at 8bit (18Gbps) Support
3D, 4Kx2K,1080p, 720p, 480p
Full 3D Support, HDCP 2.2 support
Meets HDMI 2.0 testing standards
Durable Zinc Alloy Shells
EMI/RFI Resistant
Cable Spec: Fiber Optic

Common Applications
PS4
Xbox One
Apple TV
Roku Ultra
4K Blu-ray Player
4K UHD Monitor
4K UHD TV
4K Projector

PLEASE NOTE: This is a Uni-Directional cable and must be installed with the display connector to the display, and the source connector to the source equipment for proper operation.

THE CIMPLE CO
All of our high quality products are brought to you by our Family owned and operated company.
We are located in Utah, "The Beehive State," here in America; where we have become a leading manufacturer and provider of high quality and durable electronic accessories along with OEM parts and replacements.
Our products are backed by our amazing warranty and a satisfaction guarantee, including 100% US based customer assistance.
Payment & Security
Your payment information is processed securely. We do not store credit card details nor have access to your credit card information.