Roll over image to zoom in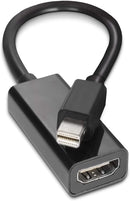 Description
Perfect For: Allows users to connect HDMI enabled TV's monitors or computers to Apple devices and other Mini DisplayPort (DP) compatible devices

Easy to Install: Features a compact, portable and plug & play design that doesn't require additional drivers or software

Perfect For: Works seamlessly with PC's and Apple (Mac) computers with a mini DP (Includes Microsoft Surface Pro Series, Lenovo ThinkPad, Google Chromebook Pixel - Apple MacBook Air, MacBook Pro, iMac, Mac Pro, Mac Mini and more) , Thunderbolt to HDMI

Resolutions: Video Resolutions up to 4K, including - 1920x 1080 (1080P HD Digital) + Uncompressed digital LPCM 7.1, 5.1 or 2 channels / HDCP compliant

Includes: Black Mini DisplayPort (DP) to HDMI Adapter - backed by manufacturers warranty

Put your stuff on full display, THE CIMPLE CO way.
Connect your HDMI equipped devices with ease, to any mini DP compatible device such as the Apple iMac, MacBook or Microsoft Surface Pro series. This mini DP to HDMI adapter supports high definition video and audio, with up to 1920x1200 resolution, and utilizes its premium specifications to provide the highest transmission rates for maximum results. The Mini DisplayPort to HDMI Adapter is the ultimate multi-tasking companion. So, whether you're on the go, at the office or presenting at a conference, this adapter features a lightweight and pocket size design that is perfect for whenever and wherever you need it.

Partial Compatibility List:
Mini DP to DVI Adapter Compatible with Thunderbolt Port
Apple MacBook Air | MacBook Pro | iMac | Mac Mini | Mac Pro
Microsoft Surface Pro - Pro 2 - Pro 3 | Surface Book
Dell XPS 13 - 14 - 15 - 17 Latitude E7240 - E7440 | Precision M3800
Alienware 14 - 17 - 18 | Acer Aspire R7 | Intel NUC | Asus ZenBook
HP Envy 14 -17 | Google Chromebook Pixel
Cyberpower Zeusbook Edge X6-100 - X6-200
Toshiba Satellite Pro S500, Tecra M11 - A11 - S11
Any many, many more
THE CIMPLE CO
All of our high quality products are brought to you by our Family owned and operated company.
We are located in Utah, "The Beehive State," here in America; where we have become a leading manufacturer and provider of high quality and durable electronic accessories along with OEM parts and replacements.
Our products are backed by our amazing warranty and a satisfaction guarantee, including 100% US based customer assistance.
Payment & Security
Your payment information is processed securely. We do not store credit card details nor have access to your credit card information.